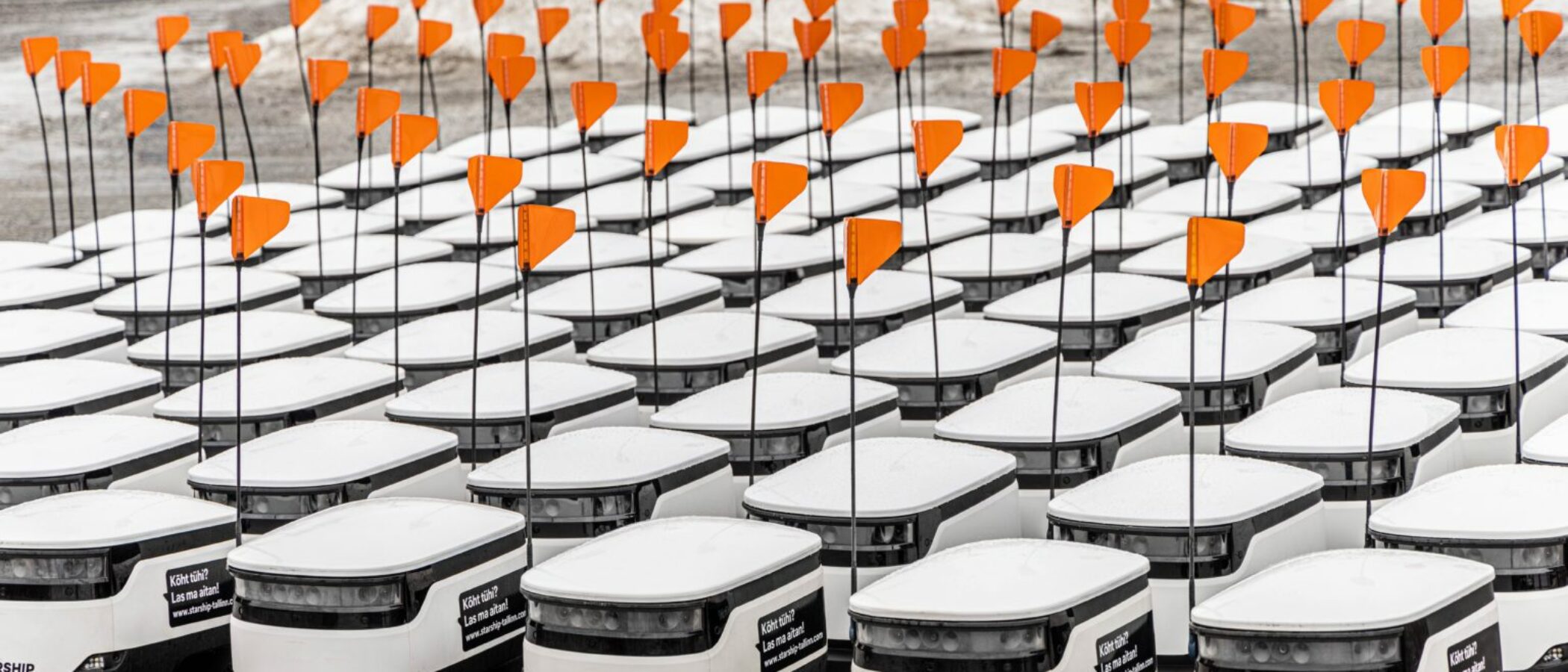 Grubhub and Starship Robot Delivery have partnered with Brandeis Hospitality to offer you a one-of-a-kind mobile ordering experience! 
Save time and skip the line at your favorite retail dining location when you order through Grubhub. Customize your order to your liking and receive real-time order updates straight to your phone. Along with mobile ordering, you can also choose to have your meals delivered through our food delivery robots powered by Starship. Have your favorite snack, drink, or meal delivered to you without leaving the comfort of your favorite on-campus hangout spot! The robots provide a safe, fast, affordable, and environmentally friendly delivery.
Download the GrubHub app from the App Store or Google Play now!
It's easy to get set-up and use Grubhub Campus Dining. Follow these simple steps or watch the video below and get ready to dine at your favorite on-campus locations.
2) Set-up your Grubhub account
3) From the Account menu, select Campus Dining and choose Brandeis University
4) Select your class and/or position on-campus and select "Add card."
5) Sign into your Brandeis account to directly link your meal plan to Grubhub orders
6) Sign up for Reuse Pass through the Grubhub App. Click here to learn how. 
---
What dining locations accept mobile ordering/robot delivery?
The following dining locations accept mobile ordering through Grubhub; orders can be picked up in person:
Greens & Grains
La Sabrosa
Wok This Way
Wild Blue Sushi
Louis Deli
Dunkin
Starbucks
Einstein Bros Bagels
The Stein
The following locations allow students to have their orders delivered to them through Starship
Food Delivery:
Greens & Grains
La Sabrosa
Wok This Way
Wild Blue Sushi
Louis Deli
Dunkin
Starbucks
Einstein Bros Bagels
What apps do I need to have to use mobile ordering?
The only app you will need to utilize for mobile ordering is Grubhub. Grubhub seamlessly integrates with Starship Robot Delivery & Topanga. Returning students can uninstall the "Starship- Mobile Delivery" app on their devices.
Can I use my meal plan with Grubhub?
Yes! Students on most meal plans (excluding Block 30 & 15 meal plans) can utilize Grubhub for Meal Exchange & Points. Be sure to select a meal plan for a seamless dining experience. Grubhub also allows the use of debit & credit cards.
Is there a charge for robot delivery?
Yes, there will be a nominal fee when ordering robot delivery. Students have the option of pick up or choice of delivery. You may use Points, WhoCash, debit, or credit card to pay for the delivery fee. Meal Exchange cannot be used for robot delivery.
If I order for in-person pickup, where do I pick up my order?
For those who have ordered for an in-person pickup, you will receive a notification that your order is ready for pick up. Please proceed to the dining location from where you have ordered once you have received the notification.  Once you arrive, please proceed to the designated pick-up area where you can pick up your order.
Where can I see how many Meal Exchanges, Points, & Who Cash I have left?
Guests can view their account balance information on the Grubhub app at any time. Click on your "Account" and click payment. Then select your Campus Card, and you will be able to view your available balance.