Spare Food Co. & Brandeis Hospitality Team Up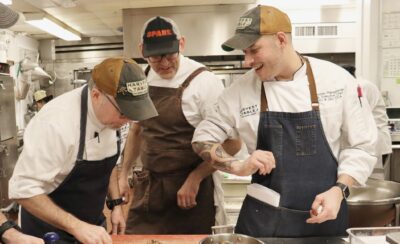 Brandeis Hospitality and the Harvest Table Culinary Group work hard to develop partnerships with organizations whose missions are aligned with ours. One such partnership is with The Spare Food Co., a business that recognized the power of all individuals to have a positive impact on the planet through our everyday food choices.  
According to the United States Department of Agriculture, between 30 and 40 percent of all food produced in the US is discarded. Spare creates delicious food and beverage products that utilize upcycled ingredients to increase nutrient density and combat food waste. Their Upcycled Certified™ Spare Tonics contain just four clean ingredients including acidic whey, a protein and vitamin-rich byproduct of the yogurt making process. The result is a refreshing beverage like kombucha that can be enjoyed any time – from after a workout or when you're looking for a snack to get you through an afternoon slump. 
This past February, we welcomed Spare's co-founders Adam and Jeremy Kaye, along with Jackie Berliner and Mak Lindquist, to campus for a two-day culinary development session. During their visit, our chefs got to test out recipes with a new product Spare is launching called the Spare Starter, a versatile veggie blend containing parts of six different crops that are edible but are often left in the field or discarded because there is no market for them. For every "tub" of the product used in recipes, Spare  estimates that 20 pounds of food are rescued and 400 gallons of water saved 
The possibilities are endless with the Spare Starter. Our culinarians, along with Chefs Adam and Mak, made dishes including a spicy puttanescsa sauce, and blended meatballs and smash burgers with beef from Walden Local. Blended beef recipes are a great way to get the flavors of classic recipes while reducing the environmental impact associated with them.  
After the first day was spent perfecting the recipes in the kitchen, students were able try them out for themselves at the Allgood and Fuze stations during lunch and dinner on Day 2 of the session. The Spare team handed out samples of their four Tonic flavors, talked about their products and mission, and joined the Brandeis Hospitality team in getting feedback on the dishes. Guest favorites were the meatballs and the puttanesca sauce served over upcycled spaghetti squash – some students even gave their compliments to the Chef when they saw them around campus later that day!  
We thank the folks from The Spare Food Co. for the collaboration and commitment to changing the planet through food. Guests can find the tasty dishes and more in our dining locations regularly throughout the semester and enjoy them knowing that they're making a climate-friendly, nutritious food choice.