Mindful Eating Tabling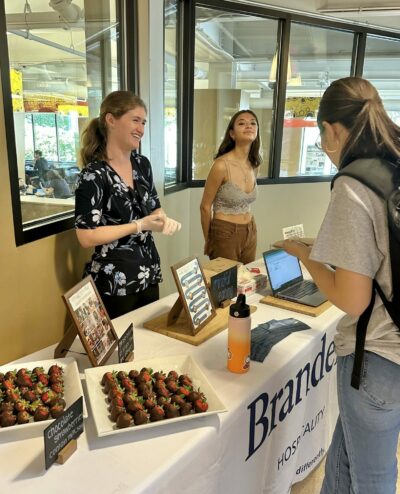 The Harvest Table Culinary Dietitian and the Bridge to Wellness Peer Educators collaborated on a Mindful Eating tabling event at Sherman Dining Hall. The event was designed to expose students to the concept of Mindful Eating. Mindful Eating encourages the individual to tune into their hunger and satiety cues while they eat.  Rooting oneself fully into the eating experience is at the heart of mindful eating. Minimizing distractions during meals, sitting down to eat, eating slowly and engaging all of the senses during the meal are all methods of implementing Mindful Eating.
Mindful Eating is associated with many positive outcomes on health and wellbeing. Some of the benefits of adopting the practice of mindful eating may include increased gratitude for food, limiting emotional eating, supporting a healthy body image, and improved psychological well-being. When combined with education on healthy eating choices from a Registered Dietitian, mindful eating strategies may lead to weight loss as well.
As part of this tabling event, the students were given Chocolate Dipped Strawberries with Lime Zest, and instructed through the mindful eating process. They were encouraged to eat slowly and to try to taste all of the individual flavors in the food. After mindfully enjoying their chocolate covered treat, the students signed up for a 5 Day Mindful Eating Challenge to further cement the habit of Mindful Eating.